ismartgate LITE Kit for Garage Doors - HomeKit
ismartgate Kit for Garage Doors.
Includes Wi-Fi controller and waterproof wireless tilt sensor. ismartgate LITE will remotely open, close and control your garage door through HomeKit, Google Home, Samsung SmartThings and iFTTT or with native iOS/Android App. Includes key features such as video, user management compatibility., automatic open/close with GPS location or time (with iFTTT). Only for 1 garage door control.


HomeKit Compatible (voice control)
A cost-effective garage door controller compatible with HomeKit. Integrate your garage in an Apple eco-system through HomeKit and voice control with Siri.

Remote Access
Open and close your garage door remotely from an app or web-link. Internet conection required.

Easy to install
ismartgate LITE only requires a screwdriver and 20 minutes of your time. Easy to link with your Apple, Google or Amazon eco-system too!

Real time alerts
Receive alerts when door is open, closed or left open on your Smartphone or via email. The garage kit also monitors your garage temperature and sensor's battery condition. With HomeKit, you will receive alerts when door is stopped.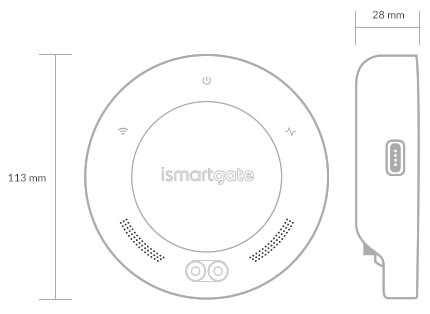 Wi-Fi 2.4Ghz (802.11 b/g/n)
Relay outputs: 1, to control 1 door/ gate
Dry contact inputs: 0, no wired sensor supported
Speaker: Not included
Light: Not included
USB: type A
System: 512Mhz CPU / 4GB eMMC / 128MB RAM
Universal Power Supply: 110-240V AC (50-60 hz) to 5V2A DC
Receiver: 2401 Mhz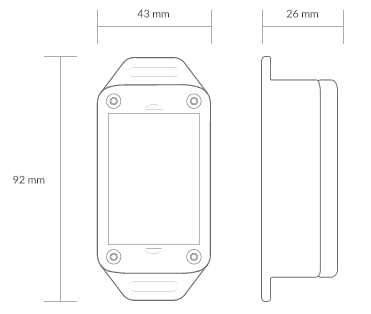 Transmitter:2401 Mhz
Type: Gravity sensor
Temperature indicator: Included
Range: 50 ft
Operating temperature: -25ºC / 70ºC
Batteries: 2x Type-N (1.5V)
Life span: 18 months
Waterproof: Yes

In the box 📦


· 1 x ismartgate LITE controller
· 1 x Peeled connection cable
· 1 x Power supply
· 2 x Double sided tape
· 1 x Quick Start Guide
· 1 x Waterproof Wireless tilt sensor (for garage door)
· 2 x Type-N 1.5V batteries (for sensor)